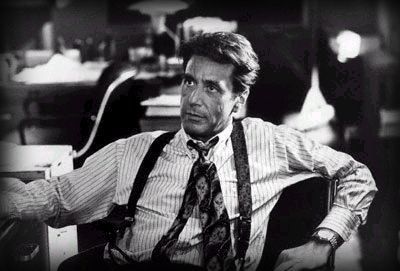 …when used-car salesmen run your government.
Oh I see; the problem isn't the lies or the failures.
It's
not
having
every single predicate
for this whole fucking mess kamikaze straight into God's Own Bug Zapper, fall to powder and blow away.
It's
not
finding out that every baboon's-ass-rosy-red assessment that these criminals used to slicker a stunned nation of grieving men and women into a Baghdad Tiger Cage was a premeditated
lie
; a goat staked out at a deadfall to bait us to our doom by dogfuckers that, even now that their lies are exposed, rotting away in the blasting noonday heat for the whole Earth to see, for some inexplicable reason are still worshipped by GOP acolytes like the Sun God?
It's
not
that people who committed treason and endangered our national security are given sanctuary in the White House…as if it were the Vatican and they were child molesters.
It's
not
that
every day
we stay in Iraq is another recruiting victory for terrorists.
It's
not
that Operation Enduring Clusterfuck hasn't already been the
biggest boon to
terrorism
in the History of the Universe.
Like Tobacco Executing, cigarettes and lung cancer, when soulless Sanguivores run the shop it's never the
problem
that's the problem, it's the fucking
marketing
that's the problem.
This from
the NYT
.
U.S. Officials Retool Slogan for Terror War
By ERIC SCHMITT and THOM SHANKER
WASHINGTON, July 25 - The Bush administration is retooling its slogan for the fight against Al Qaeda and other terrorist groups, pushing the idea that the long-term struggle is as much an ideological battle as a military mission, senior administration and military officials said Monday.

In recent speeches and news conferences, Defense Secretary Donald H. Rumsfeld and the nation's senior military officer have spoken of "a global struggle against violent extremism" rather than "the global war on terror," which had been the catchphrase of choice. Administration officials say that phrase may have outlived its usefulness, because it focused attention solely, and incorrectly, on the military campaign.

Gen. Richard B. Myers, chairman of the Joint Chiefs of Staff, told the National Press Club on Monday that he had "objected to the use of the term 'war on terrorism' before, because if you call it a war, then you think of people in uniform as being the solution." He said the threat instead should be defined as violent extremists, with the recognition that "terror is the method they use."

Although the military is heavily engaged in the mission now, he said, future efforts require "all instruments of our national power, all instruments of the international communities' national power." The solution is "more diplomatic, more economic, more political than it is military," he concluded.

Administration and Pentagon officials say the revamped campaign has grown out of meetings of President Bush's senior national security advisers that began in January, and it reflects the evolution in Mr. Bush's own thinking nearly four years after the Sept. 11 attacks.
…

By emphasizing to the public that the effort is not only military, the administration may also be trying to reassure those in uniform who have begun complaining that only members of the armed forces are being asked to sacrifice for the effort.

New opinion polls show that the American public is increasingly pessimistic about the mission in Iraq, with many doubting its link to the counterterrorism mission. So, a new emphasis on reminding the public of the broader, long-term threat to the United States may allow the administration to put into broader perspective the daily mayhem in Iraq and the American casualties.
…
So lets count this down, shall we?
Less than
one year ago
Dear Leader slimed his way back into office in part by mocking anyone who suggest that the police and courts and diplomacy had a place of prode and prominence in the war on terror. They who, less than a year ago, ridiculed any suggestion that the manly art of statecraft was anything more or less that just that killing everyone that disagrees with you, now say, "future efforts require 'all instruments of our national power, all instruments of the international communities' national power. The solution is 'more diplomatic, more economic, more political than it is military.'"…
"Bush's own thinking" is evolving. Man you
know
the feces is hitting the cyclotron when you hear anything
this
close of an admission by anyone inside the Koolaid Factory that Dear Leader might have been wrong. Huzzah! Soon he will discover fire and language and zeroes and hopefully that sacrificing the young and eating their hearts doesn't actually imbue you with their strength…
The military is getting pissed that the strutting, preening chickenhawks who proudly hold their coats for them while they go off to fight and die are
categorically
unwilling to put any skin in the game…
The public is starting to wake up and wise up that they have not only been scammed out of their shoes and wallets, but their futures, fortunes, international reputation and epidermis…
What to do?
Quick, Karl,
to the Rebranding-mobile
!
And may I suggest just a few, just to get the ball rolling?
For the biggest bologna shooter in Bologna Town: "My Bologna has a first name its S-C-O-T-T...".
For PNAC: "I'm a Traitor, he's a Traitor, she's a Traitor, we're a Traitor, wouldn't you like to be a Traitor, too?"
For Manwhore Gannon: ""Choosy Motherfuckers Choose Jeff."
For the deeply confused Ken Mehlman: ""Sometimes you feel like a nut. Sometimes you don't."
For the GOP Rank and File: ""Promise her anything, but give her Tikrit."
For Pat Fitzgerald: "Strong than Dirt."
For failing us all utterly, the dumbass MSM: ""I can't believe I ate the whole thing."
For Dear Leader: ""Bacardi & Cola. They get the job done!"
For Gitmo: ""Rendition! Take me away!"
For Kyoto: ""It's not
nice
to fool Mother Nature!"
For the Yellow Elephants: "Ask any girly-men you happen to see, What's the best tuna? Chickenhawks of the GOP."
For the Administration: ""Look Ma, no principles!"
For Bush 41: ""It takes a tough man to make a tender chicken."
For all-time, Life-Time, Number-One Bush Contributor, Kenny-Boy Lay: ""I liked it so much I fucked the company."
The Yellow Cake State of the Union Speech..and all other WMD lies: ""Raise your hand if you're sure."
To every cocksucker Iraq Apologist: ""Where's the motherfuckin' beef you lying douchbags??"
For US Army Baghdad Airport Highway: ""Drivers wanted."
The NYT: ""Ahmad's news that'll fit."
For the ones that make Jebus Cry: "Fundamentalism: The antidote for civilization."
For Fat Karl: "Treason? You're
soaking
in it!"
And for Iran: "Like Iraq. Ohhhhh, like Iraq."
** (And I had to add this from mac for obvious reasons: ""What happens in Baghdad stays in Baghdad.")