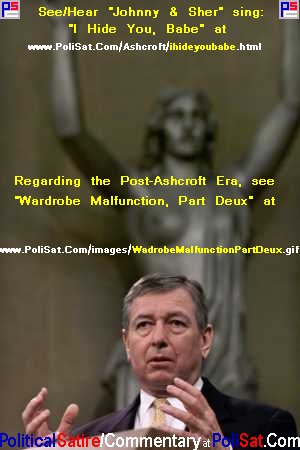 I don't know...she's out in the audience...
Hey Dale, would you like to come up here and hold
My pickle to satisfy this weird man out on the stage?
See…
I'm only interested in two things, and that's
Titties and beer.
You know what I mean?
What?
Titties and beer
Titties and beer
Titties and beer…
(Zappa; or why God made Google :-)
And since
Mr. Gilliard has the beer part covered
…this via Yahoo News.
Ashcroft Gone, Justice Statues Disrobe



By MARK SHERMAN, Associated Press Writer1 hour, 29 minutes ago

With barely a word about it, workers at the Justice Department Friday removed the blue drapes that have famously covered two scantily clad statues for the past 3 1/2 years.

Spirit of Justice, with her one breast exposed and her arms raised, and the bare-chested male Majesty of Law basked in the late afternoon light of Justice's ceremonial Great Hall.

The drapes, installed in 2002 at a cost of $8,000, allowed then-Attorney General John Ashcroft to speak in the Great Hall without fear of a breast showing up behind him in television or newspaper pictures. They also provoked jokes about and criticism of the deeply religious Ashcroft.

The 12-foot, 6-inch aluminum statues were installed shortly after the building opened in the 1930s.

With a change in leadership at Justice, Attorney General Alberto Gonzales faced the question: Would they stay or would they go?

He regularly deflected the question, saying he had weightier issues before him.

Paul R. Corts, the assistant attorney general for administration, recommended the drapes be removed and Gonzales signed off on it, spokesman Kevin Madden said, while refusing to allow The Associated Press to photograph the statues Friday.
…
Jeez. Well, I guess even
photographing
nekkid classical art is for some unfathomable reason still as plainly UnAmerican as, say, photographing the flag-draped coffins of servicemen being brought home to their final, honorable rest.
The Statue, remember, has been trussed up in her wingnut winding cloth since before The Wahabi Dominionist made war against her children, the Judges.
Since before Rove turned the Swift Boat liars loose to slaughter Democracy.
Before Gay Marriage was used as a IED by Rove to bump the Bush Crime Syndicate back into the White House.
Since before a certain bashful Arch Republican Talon News Gaybashing Action Dude and Gay Manwhore was discovered fellating GOP nancies by night and shotgunning their jizz into Scotty McClellans lying pie-hole by day.
Before we took it
as something to brag about
that our torture techniques are not
quite
as odious as those of the Nazis.
Before Bush decided to try to eviscerate Social Security and then lie about it.
Before Downing Street was something more than where the newest Bush Tickle-Me-Tony Doll makes his home.
Before the Mission was Accomplished.
Before the "Nuculer 'Disassembling'" Dance Crazy swept the nation. Well, not
our
nation...
Before we saw that Chickenhawks could fly…or at least pretend to land a fighter on an aircraft carrier during the height of Operation Enduring Photo-op.
Before Bushes Lies cost us a hundred of our children who had the bad luck to be honorably serving their country when a cabal of Amoral Lying Warmongers took power.
Before is cost us 200.
Before 300.
And 400.
And 500.
600.
700.
800.
900.
1,000.
1,100.
1,200.
1,300.
1,400.
1,500.
1,600
1,700.
All apparently at the hands of a few regime dead-enders, who are in the
longest
fucking
"last throes"
since Shatner played Hamlet.
Since before Conservatives decided that quadriplegic-sewer-rat-low wasn't belly-scrapping low enough and announced that Liberals want our soldiers to die.
Since before the Neocons who backed and banked and cashed their electoral checks on this war showed themselves to be the rancid, drooling, AWOL cowards that we always knew they and their parents really were. When they ran like cheese-eating surrender monkeys when it came time to put their skin and blood where their silver spoons had been and actually go and
fight
their precious war...
So fresh from her release from her Fundy Burka, I just had to know what the Spirit of Justice thought about her long hiatus from our benighted land.
"To start with," I began, "What do you think of the replacement of a stone crazy Christopath like Ashcroft with Torture Trailblazing Munchkin, Abu Gonzalez?"
She did a long, pilates stretch, and couple of toe touches, gave me long, hungry look -– you know the one – arched an eyebrow, and in the huskiest, sexiest, Billie Holliday-est voice you'll ever hear she said:
"… I got me three beers and a fistful of downs
And I'm gonna get ripped, so fuck you clowns!"
And then she told Mr. Candyass Majesty of Law to go jerk a jackrabbit, slung me onto her mighty Justice Chopper and we split for a 4 a.m. biker bar I know in the Heights where the hot chicks go to dance with gangsters, and the jukebox plays nothing but Elvis in Spanish.
And this reporter cannot reliably report on a damned thing that happened after that.